Understanding the Federal Sentencing Guidelines
The first thing you need to know about the guidelines is that they are very complicated. No short explanation like the one below can tell you everything you need to know about the guidelines. This brief guide is just to give you an overview of how the guidelines work.
Introduction
Federal sentencing revolves around the sentencing guidelines. These guidelines are just that: guidelines. They aren't mandatory and the judges don't have to follow them. That said, they are extremely influential and they are often the most important factor in determining either the offer you will receive from the prosecutor and the sentence you will receive from the judge.
The guidelines are written by the Federal Sentencing Commission, which is a group of legal scholars and practitioners. It is frequently updated and new sections are often added and others changed or removed.
The Basics: How do the guidelines work?
The federal sentencing guidelines are based on a chart that tells judges what the recommended sentencing range is for a specific crime. The chart has both rows and columns. To determine where you fall on the chart, you must calculate the offense level and the criminal history score. Together, these two factors will tell you what your sentencing range is.
Criminal history score
: The criminal history score tell you which
column
of the chart you are in. Your criminal history score is a function of how many prior convictions you have and what kind of convictions they are. Generally, you get 3 points for any past sentence (within 15 years) of 13 months or more, 2 points for any past sentence ( of 60 days or more), and 1 point for all other prior convictions. Some very minor convictions don't count at all, such as loitering or public intoxication. When you add up all of your points, you will see which "Criminal History Category" you are in.
Example: John has two prior convictions, one for felony battery in 2004 for which he 6 months in jail, and a misdemeanor fraud conviction from 2005 for which he received 30 days in county jail. John will receive 2 points for his 2001 conviction and 1 point for 2005 conviction, for a total of 3 criminal history points. That places him in Criminal History Category II, as seen below.


Offense Level
: The next thing you need to calculate is your offense level. This will determine which row you are in. The offense level depends on a variety of factors, but it begins with a number that is set out in the sentencing guidelines: the Base Offense Level. The Base Offense Level, is determined by the statute you are accused of violating. For example, supposed John is charged with importing 10 kilograms of marijuana into the United States. According to the guidelines, this means he has a Base Offense Level of 16.
Example: As above, John has a Criminal History Category of II. Now we know he has a Base Offense Level of 16. As seen on the chart below, before any kind of adjustments or departures (we'll talk about these later), his recommended sentence is 24-30 months.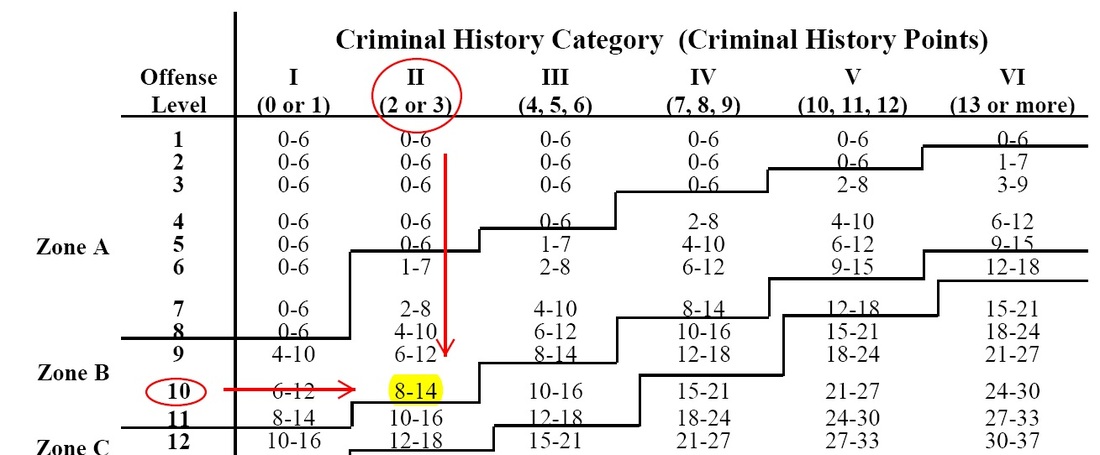 Adjustments and Departures
This is not the end of the story for John. There are ways he can try to continue to reduce his guidelines sentence. Below are a couple of the more common ways to lower a sentence in drug crimes:
Acceptance of responsibility: Typically, if a defendant pleads guilty, he will receive credit for "accepting responsibility" which, is either 2 points off the offense level (if the offense is below level 16) or 3 points off (if the offense level is 16 or above). So, in John's case, if he pled guilty, he would probably get a 2 point reduction to level 8. As you can see from the chart above, that would make his sentence 4-10 months.
Safety Valve: Safety valve only applies to defendants in Criminal History Category I (among other requirements). It serves two functions. First, it can allow a defendant to avoid a mandatory minimum sentence. Second, it can reduce a sentence by additional points under some circumstances.
Minor Role: If a defendant charged with a conspiracy, for example, had only a minor role in the planning or execution of the offense, he may be able to get an additional 2 points off his sentence.
Cooperation: Cooperating with the government and providing "substantial assistance" that could lead to the apprehension and prosecution of other criminals can offer a significant reduction in sentences, especially where the guidelines range is very high.

Upward departures
Unfortunately, your offense level can also go up. This can occur, for example, when the government shows that you had a leadership role in a conspiracy, or where you obstructed an investigation. Federal sentencing hearings can be hotly contested on all these points and it's critical that your lawyer knows all the angles.
Advanced Issues in Federal Sentencing
Once again, this is just a short guide to give you a very simple overview of how the guidelines work. The guidelines are complex and you need the help of an experienced federal attorney to work through them with you and figure out what kind of time you're looking at and how to get it down as low as possible. Complex, advanced issues in sentencing include issues like
grouping
, (which determines how much time you will get when you're charged with multiple crimes in the same charging document),
and loss calculation
(which determines your offense level in fraud cases where there is a financial victim).
These topics are too complicated for this short guide, but I hope you have a better sense now of the guidelines and how they may apply to your case.